---
Developer:
Free Game Studio Inc.
App Type:
Games
Categories:
Action
Content Rating:
Teen
Quick Description:
An intense FPS survival warcraft game is at your fingertips when you download Survival Games Block Island. Block world style graphics and tight
---
An intense FPS survival warcraft game is at your fingertips when you download Survival Games Block Island. Block world style graphics and tight controls push past the boundaries of mobile gaming. Test your skills, plan your attack, and reserve your shots all while risking life and limb while facing ruthlessly formidable foes. This is the ultimate first person shooter action showdown. Download for FREE now.
xxx An Unforgiving World of Ultimate Survival xxx
A dark forsaken uprising has gripped the autocratic world of Survival Games Block Island and only one holds the key to unified nations...
After waking up to find yourself in an unfamiliar and bleak world with no memory of where you are or even who you are, you are besieged with enemy forces that aim to capture you. Struggling to defend yourself bare-handed against these attackers you endeavor to recall any helpful information that might reveal why you are being tracked by these brutal warriors.
With a skill you don't remember having possessed, you navigate enemy territory, gathering any and every pick up you can find to aid in your quest for answers. Great challenges await you as you fight to survive in this lonely terrain without ally, and as you conquer each new obstacle, you are learning more about these foes so called the Soul Guardians. Sucking the very life from their targets, these foreign enemies are much more dangerous than you once thought. Lucky for you, you are gaining new knowledge as well about yourself, such as your military history. Armed with this information and your rekindles battle skills, you ready yourself for a head-to-head battle unlike any other in one unforgettable campaign to reclaim your memory from the edge of survival.
xxx High End Battles in a Modern Blockworld Shooter Game xxx
This addictive running and shooting battle game is the ultimate test of your skill and reflexes. The easy and refreshing interface is coupled with an amazing fast paced fighting world with classic retro-styles pixel art action game for an explosive block genre FPS experience. Enjoy varied weaponry as well as speed, health, and ammo pickups to aid you in your wartime quest to the top. Pack big punches in this hard hitting battle zone. The time to act is now.
Features:
- Exciting 3D action
- Intuitive touch controls
- Intense game play
- Diverse enemies all wielding fatal battle skills and weapon choices
- Various melee and firearms weaponry
- Achieve greatness with the help of pickups that include speed, health, and ammo
The pixilated universe of Survival Games Block Island is explosively aggressive. You must think fast, act faster, and dominate the battle field like a boss if you want to survive this warzone. Are you up for the challenge?
---
App Email:
App Website:
Screen Shots of Survival Games Block Island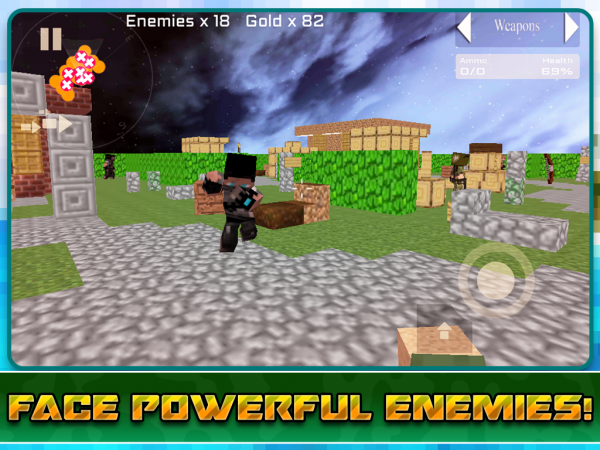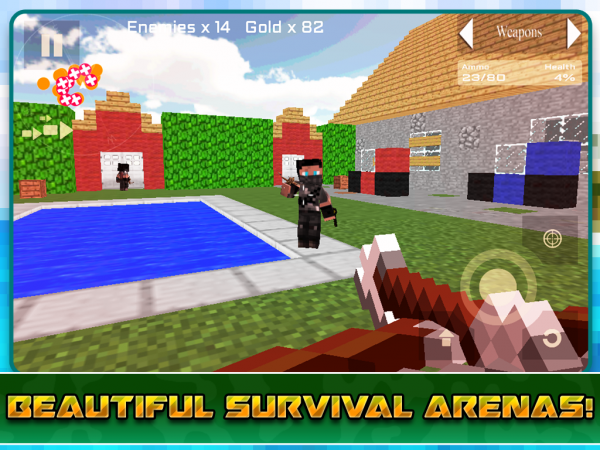 ---