---
Developer:
Free Game Studio Inc.
App Type:
Games
Categories:
Action
Content Rating:
Teen
Quick Description:
An epidemic has spread through the capitol in Survival Gun 3D - Block Wars. This deadly virus is no accident, but an intent to kill off a nation
---
An epidemic has spread through the capitol in Survival Gun 3D - Block Wars. This deadly virus is no accident, but an intent to kill off a nation–your nation–that does not agree with the fascist mob bosses of the outer worlds. In an attempt to rid themselves of state officials, these despots have created a super bug that aims to kill thousands of innocent people, all with one deadly intent to end the reign of the free people.
PROTECT YOUR PLANET FROM A RARE REIGN OF TERROR...
In a world overrun with enemy terrorists, you must overcome dangerous warlords and automatic enemies, and all before this strange flesh-eating disease goes viral. Wield epic weapons and challenge super enemies as you battle your way through a vast array of intense levels all set amidst a bleak backdrop where death looms over block-kind as you race against time to save a nation.
***LEVEL #1***
The trouble starts in the biodome of Survival Gun 3D - Block Wars, where scientists are researching this devastating disease, all while searching out a cure, even a temporary one, to save the blocky race. As word gets out that these lab coats might have the beginnings of an answer, the place is swarmed with enemy fighters, ready to wreak havoc on the scientific facility and destroy all documents pointing to a cure. As the project head and scout leader, it falls to you to bring these thugs to their knees and save whatever precious documents you can salvage from the wreckage.
***LEVEL #2***
Knowing you can no longer sit on the sidelines, knee deep in paperwork, you arm yourself for battle and journey to enemy territory, taking a military grade ship to ensure your protection, but just as before, these enemies are one step ahead of you, and your ship is ambushed. On the high seas you face unimaginable challenges and all-powerful terrorists who seek to stop you before you can near the secret headquarters. Only skill and sheer force of will can save you from these devastating enemies who fight to the death. Unleash your furry on deck and in the control room as these enemies try any means necessary to stop you in your mission.
***LEVEL #3***
High above the desert flatland sits a massive tower, and it is through the corridors of the prison below that you climb the winding staircase to the HQ of the mob boss. Legendary and brutal battles await you in this world full of diverse challenges where the mighty shall fall and the victor will dominate over the playing field.
Dynamic action awaits you as you fight variant human and robot monsters in an epic power play that will leave you on the edge of survival. Use your ammo wisely, keep an eye on your health meter and prepare yourself for ultimate combat. Bring down your enemy once and for all and end this brutal war. Survival Gun 3D - Block Wars is an immersive 3D first person shooter game. Designed for your tablet or mobile device, this aggressive action game boats an easy and refreshing interface to play. This next generation block craft game is an addicting modern day military survival game. Are you game?
Features:
-Precision aiming
-Explosive combat where enemies increase with each level
-Survive by keeping an eye out for hidden pickups such as speed, health, and ammo
-Three immense levels offer explosive game play
-Choose from an array of melee and firearm weapons
---
App Email:
App Website:
Screen Shots of Survival Gun 3d - Block Wars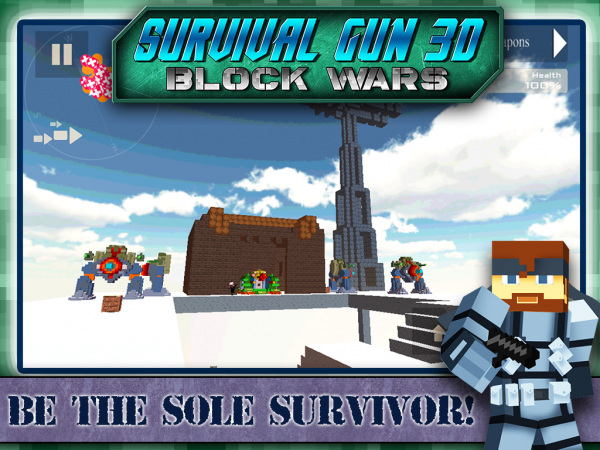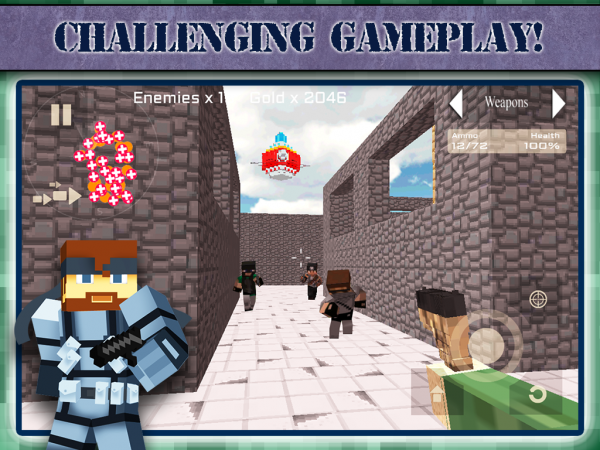 ---