---
Developer:
Free Game Studio Inc.
App Type:
Games
Categories:
Action
Content Rating:
Teen
Quick Description:
House of Blocks FPS 2 combines immersive block world environments with intense first person shooting game play for an intense, fast-paced action
---
House of Blocks FPS 2 combines immersive block world environments with intense first person shooting game play for an intense, fast-paced action adventure experience certain to leave you on the edge of your seat! Navigate a stunning mansion and deal damage over a cup of Joe at the coffee shop. The deadly terrain of this game is massive and boasts major enemy and weapon variety. Run, shoot and dodge in a world where you will fight for your survival.
PLEASE RATE KINDLY!! House of Blocks FPS 2 is loaded with ultimate warriors, extreme terrain and epic weapons. Most of all, each level is awesomely MASSIVE, which is necessary to fit all these exciting components into the game. Because of the size of each map, load time can take awhile. We ask that when you leave feedback for this game, that you do not leave a negative review because of this. Think of this brief waiting period as a quick breather before the next round of enemies mob you, pounding you with their fists and nailing you with their ammo.
***STORY MODE***
A newlywed receives word that his spouse was killed in action. A few months later, the widowed protagonist starts receiving communications that could only be from his dearly departed spouse. The messages are brief and enigmatic at first, and the puzzling messages cause him to look over his shoulder wherever he goes. This one-sided communication does not soothe as it should knowing that his beloved might still be alive. Instead, each message received seems more of a warning... and possibly a cry for help.
***ACTION MODE***
Meeting a friend for coffee one day, you are waiting at the corner bistro when the shop is besieged with angry gunmen, intent not to take hostages, but to lay everyone out in their mission to get to you. Using fists and weapons found discarded, you put up a fight, taking out many of these foes before the battle is up. Then, as you should have known, another message- this one not from your beloved, but from the leader of these band of villains, demanding you pay a large sum for the safe return of your spouse. Not a wealthy man, you know the sum cannot be collected, but you'll be darned if you let your beloved suffer at the hands of these barbarians. No stranger around a gun, you and your sweetheart used to love nothing more than an evening spent at a shooting range, and your weekends were filled with karate classes. Call it couples bonding time. Hoping to play up these strengths along with your skills as a private eye, you will delve headfirst into a world of dark desires, deadly landscapes and heated battles. You will be forced to think strategically and act fast when necessary. It's time to take over enemy bases and deliver your own brand of justice to these foes who dare try and blackmail you.
***FEATURES MODE***
Amazing HD graphics and game animations await you in this pixel block game for the ages. Frantically fight for survival as you battle your way against dozens of foes. Feel the danger as you navigate extreme territories. Collect hidden perks to aid you in your mission. Wield epic weapons with deadly intent. Hidden dangers lurk around every corner. Make sure your eyes are always open. Enemies are everywhere.
-Melee and firearm weapons
-Ammo and health perks
-Mega and slow speed pickups
-Hand-to-hand combat
-Entity map
-Health meter
NOTE: House of Blocks FPS 2 is not associated with Minecraft nor any of its skins, textures or characters.
---
App Email:
App Website:
Screen Shots of House of Blocks FPS 2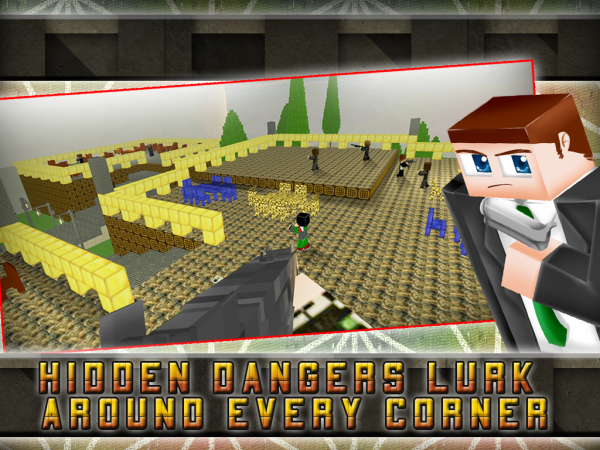 ---