---
Developer:
Free Game Studio Inc.
App Type:
Games
Categories:
Puzzle
Content Rating:
Everyone
Quick Description:
Run for cover! Ominous clouds have gathered overhead and they have morphed into a terrifying funnel shape. Don't panic yet, for while that c
---
Run for cover! Ominous clouds have gathered overhead and they have morphed into a terrifying funnel shape. Don't panic yet, for while that cyclone is barreling your way, you are not without resources. It's time to use some magic! Match potions to make winning combos against the deadly storm headed straight toward you. Make sure you brew up a good spell... You're not in Kansas anymore!
Join the exciting arcade magic of Wizard of Oz Potion Challenge! Destroy the matching colorful magic potions using strategy and magical boosts to score points and complete challenging levels. Wizard of Oz Potion Challenge is an addictive match 3 game with a cute magic theme, frenzy fast time trials, lightning quick game play, and colorful graphics! A great finger tapping match 3 experience awaits you when you download this challenging puzzle matching game.
***ACHIEVE THE HIGHEST SCORE***
Match 3 or more potions and knock out the tiles at lightning speed and move on to the next challenging level. Make matches and reach 1,000 points as fast as you can. In this explosive action packed puzzle game, you must drag one potion to line up with two or more matching potions to make it through levels. But watch out for obstacles! Trials and tricky tiles attempt to stump and thwart you throughout the game. Using your matching skills, dash through levels and become the ultimate match three victor!
***CLEAR THE LEVEL***
-Special Items– Wipe out tiles as you navigate matches to complete levels and earn specials.
-Combos– Swipe to match three or more potions in a row while scoring and earning extra points.
-Challenge Yourself– Beat the clock and make 1,000 points as fast as you can.
***BATTLE IT OUT***
-Portals– Watch out for these random opponents on the game board as your tiles will be transferred to another location when they fall through one of these tile-hungry portals.
- Bombs –Win big with the 2 special advance bombs that you can purchase in-app or win as you advance through levels. These booming bombs destroy all tiles of the same line, in one shot so new ones appear and you have more chances to finish the level.
- Frozen Tiles – Special tiles appear at random and look iced over. You need to destroy these tiles around the frozen one so you can complete the level.
- Stones – These appear at random in different levels and in order for them to disappear, you need to destroy the tiles around them.
- Locks – Locks appear at random and while the tiles will slide down beside the lock, the lock will not move.
- Rocks – Rocks appear throughout the game and tiles near them must be destroyed for them disappear.
***DISCLAIMER***
This amazing match three game isn't associated with Candy Crush Saga, Farm Hero Saga, Pet Rescue Saga, or Bejeweled nor does it use any of the characters that are associated with these puzzle games. Lucky for you, this fantastic puzzle game is unique unto itself with its own set of fun and exciting challenges with you as the star.
---
App Email:
App Website:
Screen Shots of Wizard of Oz Potion Challenge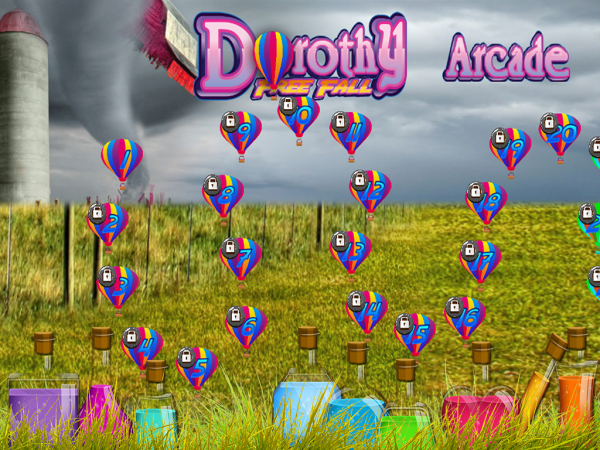 ---