---
Referee a match without having to look at the device.
Features:
- Large, conveniently placed 15 and 10 second timer buttons for no-look time tracking. The phone can optionally vibrate upon reaching the time limit.
-The timer is placed top and center in a large display for quick glance should you choose to not use the vibrate feature.
-Rod possession times are kept in a list to show players that request to see how much time they had left or went over. Any times that went over will stand out in red text.
-Time outs will trigger a 30 second clock, and pressing New Game will trigger a 90 second clock.
-Whenever something triggers the timer, the section that started the timer will be highlighted in green for clarity.
-Should there ever be a stop in play, such as a ball leaving the play area, you can press Stop to stop and reset the timer.
-Scores, games won, time outs and reset calls can all be tracked.
-Scores and games are incremented by tapping on them in the main scoreboard.
-Time outs have the options of 0, 1 , or 2 and increment in that order.
-Resets have the options of 0, 1, W (warning), or T(technical) and progress in that order.
-Upon pressing New Game, you will be prompted to say if they're switching sides or not. If so, the game count will switch sides.
-Pressing Clear clears all game data.
-ITSF rules are available in a PDF viewer for quick rule clarification. You can zoom in for easier reading of any section.
-There is a settings section to allow you to toggle vibration upon time limit and it also lets you change the team colors for different table manufacturers.
That's it. I hope this helps and I do plan on maintaining and updating this app, so please send your feedback to my developer email.
Thanks for using FoosRef!
---
App Email:
App Website:
Screen Shots of FoosRef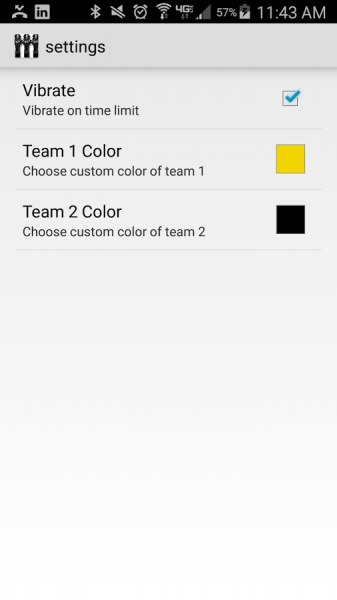 ---