---
Unofficial Anonymous Live Wallpaper. (HD Guy Fawkes Mask) Anonymous Live Wallpaper explodes in a ball of fire when triggered! If you oppose internet censorship, NSA reading your e-mails, NSA surveillance, cyber surveillance and government corruption; support international hacktivism, Occupy Wall street, LGBT issues, then this anonymous lwp is for you! We are Anonymous. We are Legion.
• You can turn the explosion effect ON or OFF in settings (defaults to on)
• You can turn the explosion sound ON or OFF in settings (defaults to off)
• This is a free app supported by advertising-
• Supports HD for Samsung Galaxy S3, S4, HTC One and similar HD phones!
• NOT for tablets (yet) A separate HD Anonymous Live wallpaper will be made.
-----------------------------------------------
For fans of sci fi, dissatisfied with the hope and change of Barack Obama, support Gay Pride, Anarchy, Natalie Portman, marijuana and free live wallpaper. Users might also search under fire live wallpaper, WikiLeaks and Edward Snowden.
Anonymous is a loosely associated hacktivist group. It originated in 2003, representing the concept of many online and offline community users simultaneously existing as an anarchic, digitized global brain. It is also generally considered to be a blanket term for members of certain Internet subcultures, a way to refer to the actions of people in an environment where their actual identities are not known. It strongly opposes Internet censorship and surveillance, and has hacked various government websites. It has also targeted major security corporations. It also opposes Scientology, government corruption and homophobia. Its members can be distinguished in public by the wearing of stylized Guy Fawkes masks.
This is a live wallpaper app for the android. You can download if free for android phones. A live wallpaper is an animated background wallpaper.
---
App Email:
App Website:
Screen Shots of Anonymous Live Wallpaper Free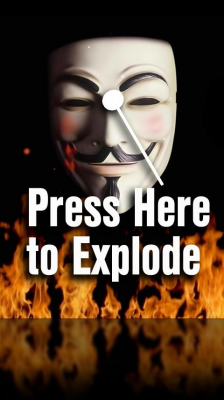 ---