---
Can you jump over 100 obstacles? Gain 100 points with this game is probably difficult, but Have you tried?
Let's jump to improve your agility and concentration.
CrazyJumps is simply game simply control, only jump by touch the screen.
Crazy Jumps is the fun game allowed storage mark on google play services and 9 achievements to unlock.
If you like this game please share with your friends. ♥
♥ HOW TO PLAY:
- Tap the screen to control 4 Crazy Jumpers jump over obstacles.
- The difficulty will increase from 1 to 4 obstacles and speed up.
♥ GAME FEATURES:
- Score
- Provides 9 achievements.
- Supports sharing
Have it and have fun! Thanks.
♥ THE NEXT UPDATE: (many requests)
- add reward
- ...
♥ CONTACTS:
- Email: stirhia@gmail.com
- Facebook: https://www.facebook.com/stirhia
---
App Email:
App Website:
https://www.facebook.com/stirhia
Screen Shots of CrazyJumps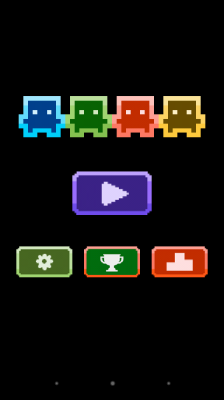 ---