---
Improve reading skills with English Reading Comprehension
English Reading Comprehension Test
Let's test your English Reading Comprehension Skills through this simple 5-minute tests.
You can improve your English skills anywhere with this simple and easy app.
Along with comprehension there are also questions based on words and phrases, spelling, punctuation and grammar exercises.
Have topics from various categories.
The passages are categorized into 5 grades. Each papers has one or two reading comprehensions and questions based on them. The questions on punctuation, spelling and complete the sentence test children's grammatical correctness in writing.
MOCK TEST
After you have practiced all types of questions, you can take a Mock Test with 10 questions from each topic. The Mock Test has questions selected randomly from each topic. Scores for the mock tests taken in the past are displayed in a bar chart. This is a great way to track how you are progressing in mock tests. There is no limit on how many mock tests you can take.
You will love all apps and Nursery rhymes by Simsam.
---
App Email:
App Website:
http://www.simsam.us/
Screen Shots of English Reading Comprehension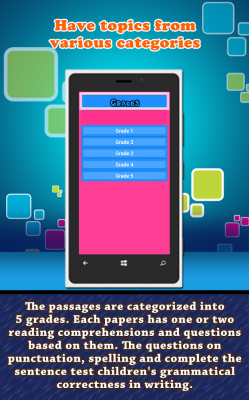 ---